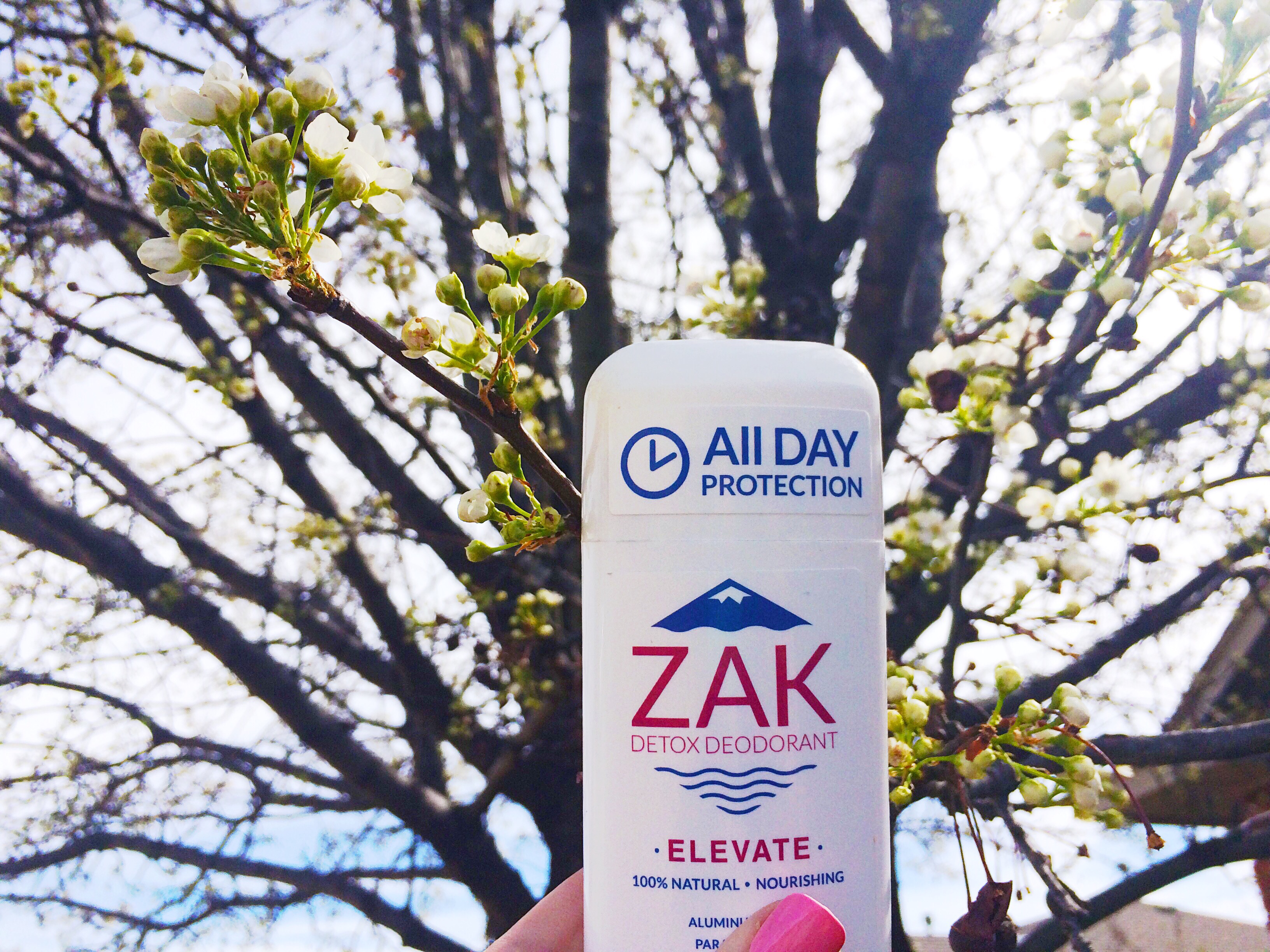 Hey friends! Today I wanted to tell you a little about a new favorite product I've been using-ZAK Detox Deodorant. The gracious PR people at ZAK sent me one of their lovely natural deodorants to try. Disclaimer: I was sent this deodorant so I could review it and post about it. All thoughts are my own. 
I was sent the Elevate ZAK Detox Deodorant. Just to sum up this product: it is completely 100% natural, aluminum free, and all day protection. This deodorant is vegan, cruelty free, paleo, and non GMO. If you were to tell me all that, I would expect a product that smells awful and doesn't work. ZAK Detox Deodorant is the complete opposite! It has a subtle, natural smell that I liked and it does work well! There was never a point that I wished I had on a different deodorant that worked better because this did the job wonderfully. I will say that it takes a little bit to get used to because I was used to the very perfumed deodorant and this is not that. If you're looking for a very strong perfumed scent, this wouldn't be for you. But once you get used to it-the simple, natural smell is lovely.
Even better than all of that, is the fact that I don't have to worry about what harsh chemicals are in this products. Recently I realized how many chemicals companies put in products we use everyday; I don't want to use products that put unnatural chemicals in my body. And I was pleasantly surprised at how well ZAK Detox Deodorant smells and works. I would highly recommend this product to anyone I know.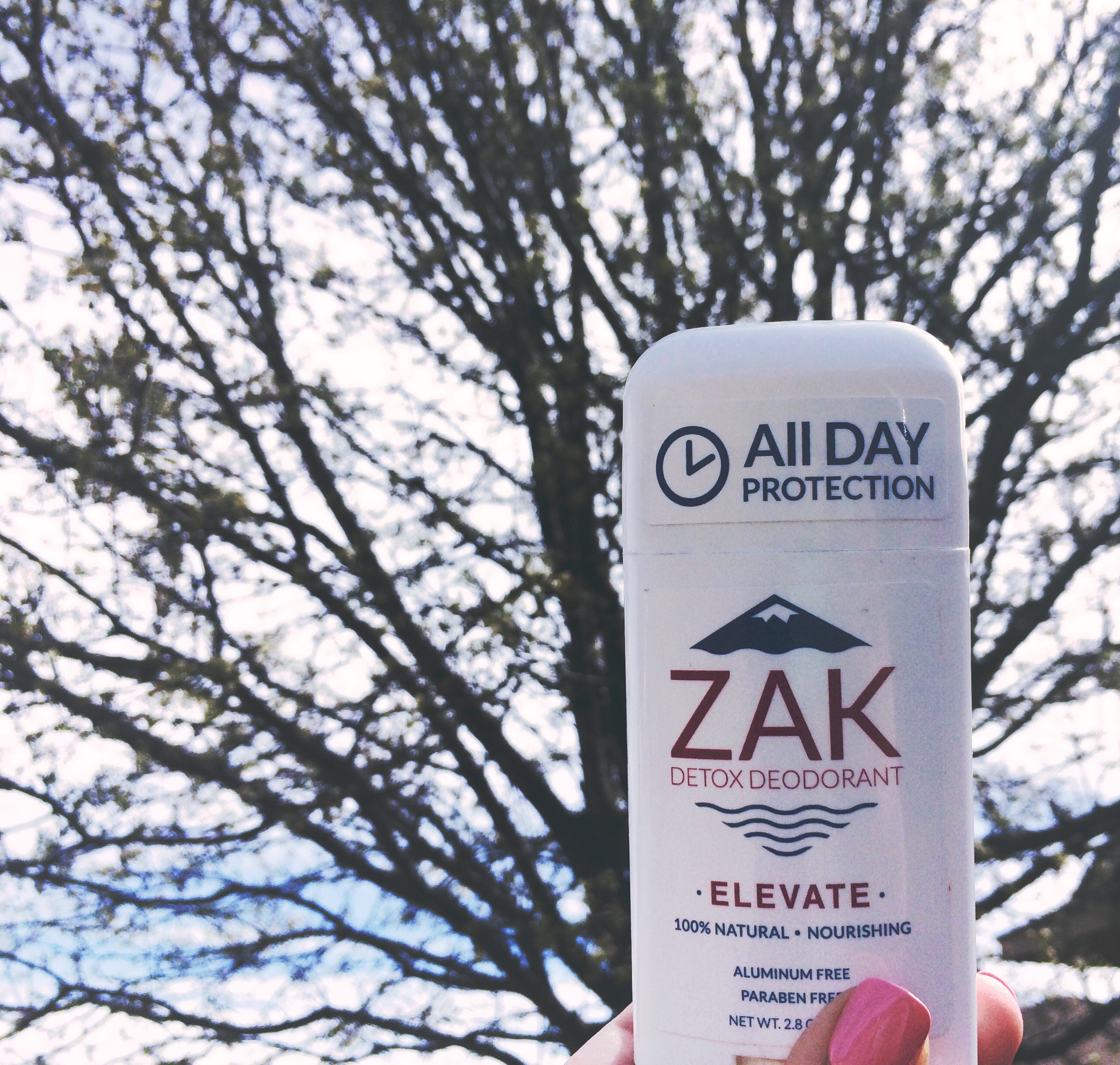 Below is some info from the company about the products: ZAK Deodorants – A Perfect Way to Smell Fresh and Stay Healthy Naturally
It's always good to smell fresh, but using potentially hazardous products to achieve it is not a wise choice.
Denver, CO., February 23, 2016 – People of all ages and walks of life are certainly not at ease with body odor. More and more people are seeking natural solutions but never at the expense of powerful effectiveness. So it is certainly a breath of fresh air to discover natural products that really work.
To address these concerns, ZAK Body Care, an innovator in natural deodorant protection, introduces ZAK Deodorants.
"We produce our superior deodorants because we want people to say goodbye to natural deodorants that don't work. ZAK Deodorants are made to last. Our perfectly unscented deodorant is totally unscented and works well to neutralize odor. Our Elevate and Energize fragrances are made from 100% pure essential oils to give the deodorants pleasant fragrances for men and women and they provide powerful odor protection and nourishing ingredients, like a deodorant should," says Zak Lyon, Founder and CEO of ZAK Body Products.
There is a myriad of synthetic deodorants in the market and most of them are effective in suppressing perspiration and body odor. But they contain aluminum, parabens, propylene glycol and phtalates – chemicals that are potentially harmful to your health. Aluminum is a known disruptor in vital systems of the human brain and body and parabens are believed to cause high blood pressure and cancer. When applied, deodorants can penetrate through the skin down to the bloodstream. Their harmful ingredients have this tendency to cause damage to your health especially if they are used regularly for a long time.
ZAK Deodorants, on the other hand, nourish the skin when they penetrate. ZAK Deodorants are healthy and work to provide body odor protection all day. It contains nothing but all-natural ingredients that are proven to stop body odor and keep you feeling fresh and clean all day despite an active lifestyle. It is a gentle, aluminum-free deodorant that works to keep your underarms soft, safe and clean. It has no side effects and it can only guarantee 100% protection from offensive body smell.
Because ZAK Deodorants are completely natural, you can certainly expect it to deliver specific health benefits.
ZAK contains coconut oil, shea butter, aloe vera, and essential oils. These ingredients are loaded with antioxidants, vitamins, minerals and fatty acids that help to keep your body odor-free and healthy on a cellular level.
It has a natural, subdued fragrance you will surely like.
Unlike synthetic deodorants, ZAK deodorant doesn't cause the pores of your underarm to clog. While ensuring protection, it allows your skin to perform its job of releasing potentially toxic substances from within your body through sweat.
The absence of chemicals in a natural deodorant helps to keep you free from allergic and adverse skin reactions.
ZAK Deodorants provide the same level of odor protection while nurturing your skin. It keeps your armpits soft and free from dark spots that are often caused by synthetic products.
It boosts your self-confidence and keeps you free from fears of smelling bad or making a bad impression, not to mention it's free from the side-effects of artificial chemical deodorants.
In this busy and active world, it is quite easy to sweat and get body odor. While some synthetic deodorants work effectively to suppress body smell, there is never a guarantee that they are safe. It's a must for everyone to smell fresh, but it wouldn't be prudent to take the risk of using hazardous chemical products to achieve it.
"I love this deodorant! With energize I have finally found a happy alternative to the deodorants with aluminum and other natural deodorants that just aren't quite effective. I have previously had issues with other natural deodorants because they give me irritations and rashes. ZAK's works for me all the time. As a college student I am always running around and trying to go from class to class and ZAK's can keep up with me and keep me fresh, even after hot yoga and long runs. I have already recommended this product to all my friends and can't wait for ZAK Detox to expand. Well worth the price!" says Sophia, a college student from Colorado.
With ZAK, you don't have to gamble with chemical-laced products to stop body odor. It can actually give you the best of both worlds. It is a great natural deodorant for men and women. You should try it now.
About ZAK Body Products ZAK Body Products is a company that commits itself to promote health and well-being in the most natural way. It is the producer and distributor of ZAK Detox Deodorant, an all-natural product that works to give 24-hour odor protection without the risks associated with synthetic deodorants. For more information, visit www.ZAKbody.com.