Hello friends! I'm not sure that this is an actual tag…because I think I made it up. However, it's a fun way for you to see a few of my favorite things right now! Today I'm introducing the Pick 5 Tag!
The Pick 5 Tag is where I'll answer tons of questions with, you guessed it, my top 5. Not just makeup and not just faith-related questions…a little bit of everything! I've also gained a lot of new followers here and it's a great way for them to get to know me. So let's see what all my top 5's are for these questions!
Pick 5 Tag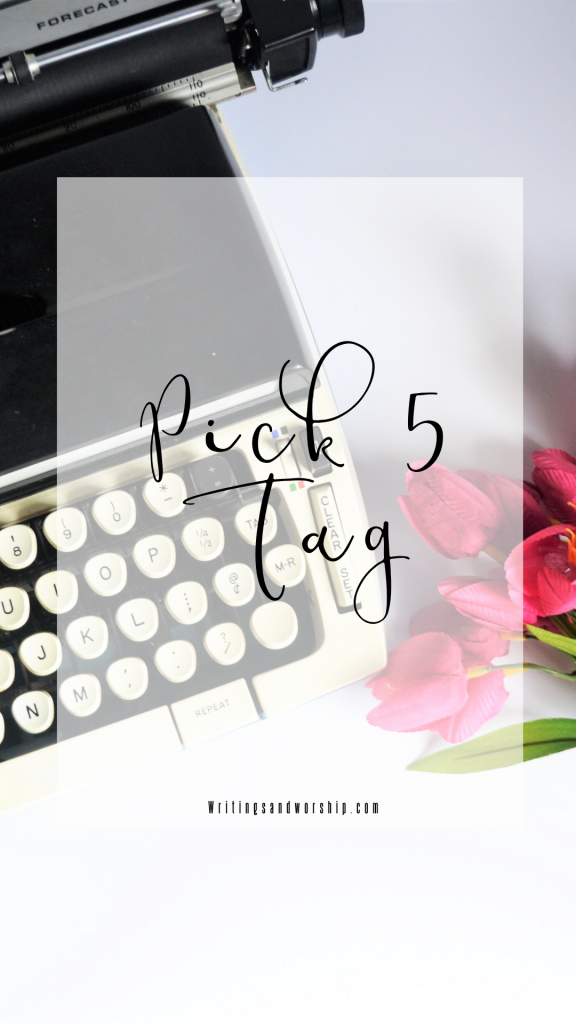 5 bands/artists to see live
Ahh, I could name a lot more than 5! But going off my current favorites: Dan & Shay, Elevation Worship, 5 Seconds of Summer, Lewis Capaldi (seeing him this May), and Ed Sheeran.
5 places to visit
Ireland, Israel, Bora Bora, Italy, and Hawaii
5 songs I'm currently listening to
2002 by Anne-Marie, Youngblood by 5 Seconds of Summer, Rollercoaster by the Jonas Brothers, Way Maker by Passion, Waving Through the Window by Dear Evan Hansen
5 shows I'm currently watching
The Vampire Diaries (again), Live PD, 20/20 on ID, The Voice, and The Masked Singer
5 makeup brands I'm loving
bareMinerals, Tarte (always), Colourpop, Morphe (especially brushes), and Flower Beauty
5 worship songs I am loving
Gone by Elevation Worship, Find You on My Knees by Kari Jobe, Love Won't Give Up by Elevation Worship, Stay Here by the Belonging Co, Way Maker by Passion
5 products I haven't tried but want to
Clinique Take the Day Off Balm, Flower Beauty Supernova Skin Elixir, Milani Stellar Lights Highlighter Palette, Estee Lauder Double Wear Foundation, Original Beauty Blender
5 Bible Verses I am loving
Phil. 4: 6-7 Do not be anxious about anything, but in every situation, by prayer and petition, with thanksgiving, present your requests to God. And the peace of God, which transcends all understanding, will guard your hearts and your minds in Christ Jesus.
Hebrews 13:5 "…Never will I leave you; never will I forsake you"
John 13:7 Jesus replied, "You do not realize now what I am doing, but later you will understand."
Psalm 16:8 I keep my eyes always on the Lord. With him at my right hand, I will not be shaken.
Romans 8:26 In the same way, the Spirit helps us in our weakness. We do not know what we ought to pray for, but the Spirit himself intercedes for us through wordless groans.
5 drinks I love to have
Mango tea, Cold Brew w cream, bottled water, Dr. Pepper, and my classic vanilla latte!
5 favorite Jonas Brothers songs from Happiness Begins
Sucker, Strangers, I Believe, Rollercoaster, Used to Be
5 podcasts I recommend
Culpable, Mile Marker 181, Crime After Crime, Without Warning, 3 Men and a Mystery (I know, they're all true crime podcasts, it's the best ones I've listened to so far!)
5 broadway shows I really want to see (that I haven't seen yet)
Dear Evan Hansen (anyone shocked), Wicked, Aladdin, Hamilton, West Side Story
5 dogs I really want to have
Another toy poodle, dachshund, golden retriever, bichon frise, and schnauzer
5 favorite rides in the Magic Kingdom
Carousel of Progress, Splash Mountain, Big Thunder Mountain, Tea Cups, Haunted Mansion
So what are your answers to some of these questions? I'd love to hear your top 5 for some of these! Let me know what your answers are in the comments below! XOX