Any makeup lover knows that the holidays mean one thing…new makeup launches! Now brands are now doing more launches throughout the year and not just at the holidays. However, they are still launching many holiday exclusive makeup sets and products. Just in time for holiday makeup gift guide posts!
Today is a gift guide for those looking to buy some holiday exclusive makeup. I do gift guides a little differently than most bloggers; I don't just share the link and move on. Personally, I like to tell you a little about the product or set and share a few of my thoughts on them. While there are many other products and sets I haven't mention, these are the products I thought looked the most interesting and that I thought would be great for you to try. So maybe you are looking for a gift for a makeup lover or just want to grab some holiday makeup yourself…I hope this gift guide is helpful! Now, let's look at some fun, holiday-inspired makeup.
Holiday Exclusive Makeup Gift Guide || Blogmas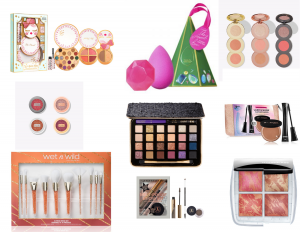 Too Faced is a brand that you can always expect to have a few holiday items or sets. They always bring out some fun items during this time and typically I love most of what they bring out. I have a love-hate relationship with most holiday sets because they can be pretty inconvenient in packaging. For instance, who has room for a huge cardboard suitcase-like box full of minis or a large palette shaped like a tree? However, Too Faced did a really great job with this snowman set! The three "snowballs" detach and are able to be carried on their own. They're a great size and good, thin packaging. The biggest snowball is an eyeshadow palette, the middle snowball is a set of blushes, and lastly, the smallest snowball is a bronzer and highlighter duo. All these shades seem really versatile and have a mix of shimmer and mattes. Overall, this seems like a great set to me! I'd love to get it in my collection.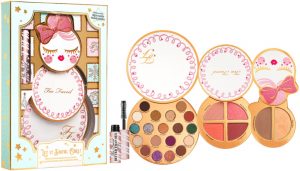 Would it be a makeup gift guide without a gorgeous glam palette? Now, I will say this…this palette has some repetitive shades and doesn't have very been deep shades. So you might have to grab a dark shade to deepen the look from somewhere else. But the hades in this palette are too gorgeous to ignore! Also, for Tarte, this looks like pretty simple packaging that would be easy to store. The palette has many different formulas of shades including matte, shimmer, glitter, and metallic…which is perfect! You want a palette with some versatility. I want to get my hands on this and see how the shades look in real life. Can we just talk about that icy blue metallic shade? Holy cow! And that purple glitter on the bottom row seems to have a little, almost holographic nature to it. It has flecks of purple, pinky, and blue in it. Super pretty! Also, this comes with a liner and a mascara.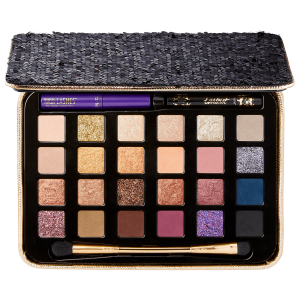 Brows are so often left out, am I right? This is a great starter kit of refresh kit from Anastasia. If you are new to brows, this is a great way to test out some different brow products. Or if you do your brows religiously, this is a great way to stock up. The kit comes with Full-size Dipbrow Pomade Waterproof Brow Color, Travel-size Dipbrow Gel, and a #12 Large Synthetic Duo Brow Brush. There are multiple colors you can choose from…all the stores had a different amount of shades in stock because they were sold out of some. So make sure you check Sephora, Ulta, and the website to see what has your color in stock.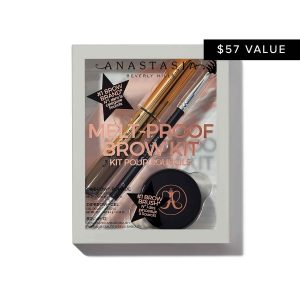 I think that an Hourglass palette is becoming a staple in my holiday makeup gift guide posts. Maybe one year I'll buy myself one! This palette is a little different than their really expensive powder palette's…this one is just blush. So you get 4 shades of blush in this-one shade leans more to bronzer to me depending on your skin tone. The palette has the iconic mirrored top and this palette has a frosted plastic bottom. This appears to be a great cheek palette and has the well-done formulas of the Hourglass powders. And it's a little cheaper than the 6 shade palette.
Can I make a confession? I've never actually used a Beauty Blender Sponge. I know, I know, I just think that $20 for a sponge is a little high. This cute little ornament has a full-size beauty blender plus a solid cleanser for cleaning the sponge. I think that this would be such a cute little gift! You do get the extra solid cleanser for the same price of a typical beauty blender so that is nice. There is also a mystery aspect because the beauty blender could be one of two colors.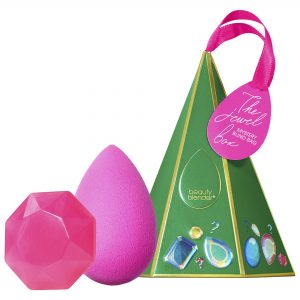 Wet n Wild brushes are some of the best drugstore makeup brushes out there, in my opinion. They have been putting out some holiday sets for the last couple of years so I knew I wanted to include this one in my makeup gift guide. The set comes with 10 brushes- 5 eye brushes and 5 face brushes. These brushes include a crease brush, fan brush, powder brush, ad more. I love the pop of orange glitter on the handles of the brushes. This is a great set overall for both makeup newbies and makeup lovers. We can all use more brushes!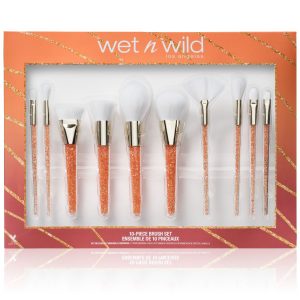 This is probably my favorite item from Tarte's holiday launch. These cheek sets are so cute, easy to use, and really versatile. The set comes with 3 towers one in rose gold, one in gold, and one in gunmetal. Each tower opens to reveal a bronzer, blush, and highlighter. The packaging of this is so smart! It's both unique but useable. They twist open to become a long row but they close to be a short little tower. Each tower is a different set of shades. From swatches, I think all the towers would work on light to medium skin. One or two of the towers might be a little light for a deeper skin tone. What a great price for technically 3 smaller face palettes!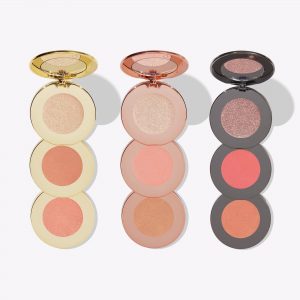 Great deal alert! For less than $30 you get a full-size mascara and a full-size bronzer in this kit. The Super Hero Mascara is one of my favorite high-end mascara's out there so of course, I wanted to add this set in the mix. I haven't tried the bronzer yet but it looks like a great product and this would be a great way to try it. The set also comes in a cute sparkly makeup bag. I mean who can't use another one, right? Ha! But this is a great, simple but useful set for any makeup wearer.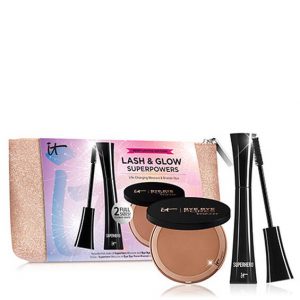 I know, I know…another Tarte item! I'm just sharing what I love. Chrome or metallic formula is probably my favorite shades to wear because they are so gorgeous. This set comes with 4 of their chrome shadow pods. The set also includes two never seen shades! These are so versatile and the shades seem very wearable. The pods will be a lot like cream shadows and are recommended to be applied with your fingertip because the warmth of the fingertip will help smooth out the shade flawlessly. Honestly, such a great price for 4 pot shadows which is why I wanted to include it in my makeup gift guide this year.
Now obviously, there are many more holiday makeup products…but these were just a few that really stuck out to me. Like I mentioned above, I do gift guides a little differently than most bloggers…so let me know in the comments if you like this version!