Once you start really getting into skincare, you'll start to see how exciting it is to get new products! If you would have told me years ago I'd be asking for skincare for Christmas…I would have laughed in your face! But ladies, go ahead and ask for the good stuff. Today I wanted to give you a couple of ideas of what to ask for…today is all about limited edition Sephora skincare sets!
These are sets that are limited edition for the holidays and often only exclusive to Sephora- so get them before they're gone! And I kept all these suggestions under $65. Sephora skincare sets can easily be over $60 because they are often from prestige brands. However, I tried to keep it as simple as possible! These are great for people new to skincare or wanting to try some new things.
Limited Edition Sephora Skincare Sets || Blogmas
Belif is a brand I was introduced to a few months ago after receiving a moisturizer from a Sephora Play box. Honestly, one of my favorite samples I have ever used and I actually plan to buy a full size soon. This cute set is a few of their priced items: Aqua Bomb Jelly Cleanser, Moisturizing Eye Bomb, and The True Cream. These products are all about packing that moisture back into the skin. This set is good for most kinds of skin- dry, combo, and normal.
If you are new to implementing a skincare routine, this is a great starter set! It has a cleanser to help clean the skin from everything from the day, including makeup. Then you have a great eye cream and moisturizer- two other skincare staples!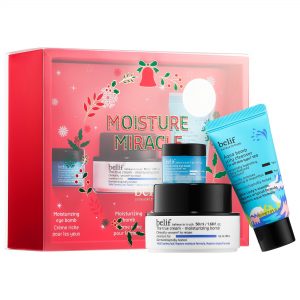 Personally, I have never used any of this brand…but these products looked so interesting I wanted to mention it! The set contains 3 items: Watermelon + AHA Glow Sleeping Mask, Blueberry Bounce Gentle Cleanser, and Watermelon Pink Juice Oil-Free Moisturizer. I mean, I'm a writer so I love a good pun like "Let It Glow" so that immediately drew me to this kit. But I love the use of watermelon juice in these products. It's actually something different! You see a lot of honey, cucumber, rose, etc. but it is nice to try a set with a different kind of key ingredient. Who knows if that watermelon does much for the skin, but so far, it sounds interesting! There is also hyaluronic acid, lactic acid, and glycolic acid in these ingredients.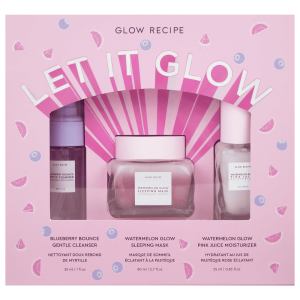 Lips! How often do we forget to take care of our lips in the skincare process? I know I do all the time…when in reality the lips probably need the care the most. This set includes 3 lip sleeping masks- one full size and two travel sizes in different "flavors." These sleeping masks are such a great product because you literally apply it and go to sleep. Typically you have to wipe it off or cleanse your skin in the morning but that's all! It does all the work while you sleep! This is also a great set because you can use the two travel sizes for gifts if you want!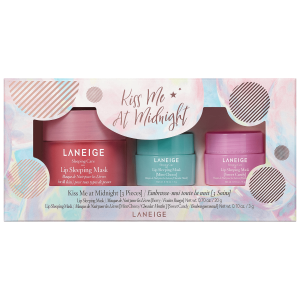 One thing that Sephora does really well is their Sephora collection sets and their Sephora favorites sets. This particular set is full of the Sephora brand masks…which I actually love. They have some great masks and numerous different kinds for different uses! This particular set includes a nose strip, face mask, eye mask, hand mask, foot mask, and lip mask..plus a few more. These are fun masks that actually work! Also, these would be great gifts as well! Or just for a fun at-home spa night.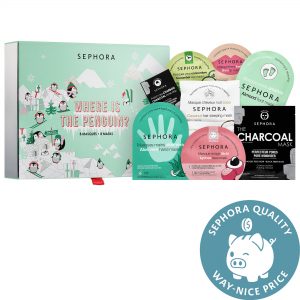 Another lip set because lip care is so important during the winter! This FRESH sugar set if a fun trio that includes Sugar Wonder Drops Lip Primer and two shades of the Sugar Tinted Lip Treatment Sunscreen SPF 15. The shades include Rose and Berry. Because they are tinted they will add just a little bit of color to the lips without being too harsh. This is perfect for people in your life who aren't a big fan of bold lip colors.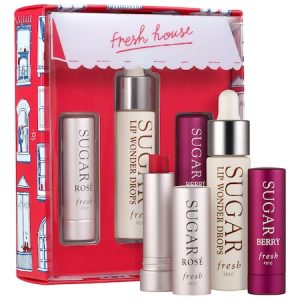 I had to include one of the famous Sephora Favorites skincare sets in my Sephora Skincare Sets post! These favorites sets are an incredible way to try out new products in a smaller size so you can see what you like best. Also, this is a great way to try some exciting, high-end brands you might not normally get to try! This set includes a ton of amazing brands including First Aid Beauty, IT Cosmetics, La Mer, Lancome, and Algenist. The products include sleeping collagen, serums, radiance pads, face creams, moisturizers, and a lactic acid treatment.
How cute is this Caudalie cracker? I love the concept of this cracker at Christmas, they did a great job on the packaging! This set comes with three travel-size items that include Vinosource SOS Thirst-Quenching Serum, Vinosource Moisturizing Sorbet, and Micellar Cleansing Water. If you are looking for a great skincare gift this would be a great option! These sound like amazing products and what I've tried from this brand…I have loved. I might be getting this for my own stocking, who knows!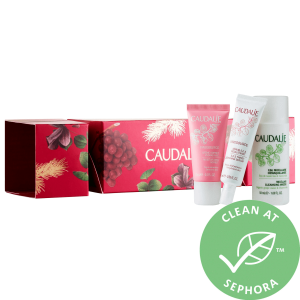 I couldn't do a Sephora skincare sets post without sharing a Tarte set! Ya'll know Tarte is a favorite brand of mine and has been for many years. I have been interested in the influx of skincare that Tarte is releasing. I actually purchased the Tingling Knockout treatment and I'm excited to see how I like it. This set is a great way to test out some of Tarte's most popular skincare products. The kit comes with Rainforest of the Sea™ Drink of H₂O Hydrating Boost, Knockout Tingling Treatment, and Rainforest of the Sea™ Deep Sea Collagen Super Serum. The whole kit helps to combat dull and dry winter skin! Also, the kit is good for all skin types!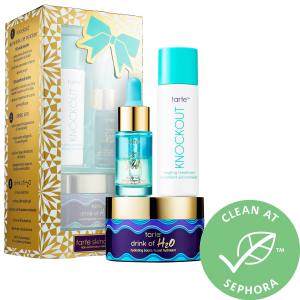 Don't you just want to add all these sets to your Christmas list now? I know I do! Leave a comment down below of your favorite set I've shared about! Happy Blogmas! XOX