I'll be honest, I'm a little confused. All over my town, summer is getting packed up and put on sale. School supplies are being brought out and everyone is acting like summer is over! But hey, here in Oklahoma, we still have a good month and a half, at least, of summer left. Especially since we have our own pool now, I will be soaking up every last moment of the summer sun. So today, I thought I would share a few of my summer beauty secrets with you.
Now I am no queen of beauty, however, I have picked up a few tricks of the trade through the years that keep your skin, hair, and makeup looking good during these scorching 100-degree days. Hopefully, you find these helpful! Give me a summer beauty secret down in the comments.
Summer Beauty Secrets
4 Summer Beauty Secrets! Tips for Makeup & Hair
Click To Tweet
Secret #1 – Add an accessory to your ponytails & buns
If you're like me, you are probably wearing your hair in buns or ponytails a lot more during the summer months. Anything to keep you a little cool, right? While I can't seem to get myself away from any other hairstyle this late in the summer…I can add a little fashion to them!
Have you seen this new hair scarf trend? At first, I wasn't really into it, but I am loving it now! I bought a handful of these hair scarves; some long ones and scrunchie size. I got all mine so far from Wish & Five Below. I mentioned these in my May and June Favorites but had to share more about them in this secrets post! They are so cute and easy to use! I tie them on my ponytails, top knot, bun, etc. and it makes them look a little more fashionable. So if you're looking to spice up your boring summer hairstyle, my secret it to dress it up! Simple as that.
My favorite way to wear it right now is either in a ponytail or a half-up bun that's pretty high and crazy. Picture below!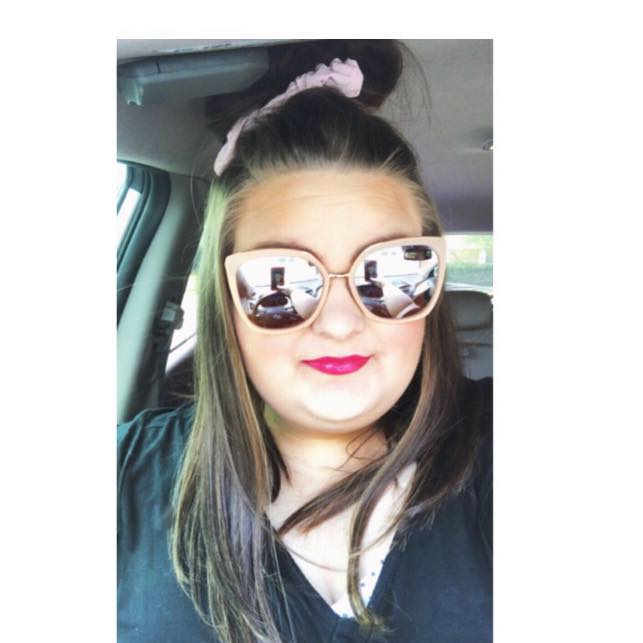 Secret #2 – Set don't melt!
I know this might seem obvious…but it is often a step easily forgotten. Set your makeup with setting spray! I neglect this step so often and always seem to regret it. When I do wear makeup in the summer, which isn't as often, I need to set it with a spray so I have hopes of it not melting off. My biggest tip is to set your makeup if you want to keep it in place. I love Urban Decay All Nighter, the Mario Badescu sprays, and the Wet n Wild setting and prep sprays. There are so many different sprays out there that will work- you just need to find one you like. And I suggest going with something refreshing during the summer.
Secret #3 – Take care of your hair
I've never been one that uses a lot of hair products. My hair used to be pretty oily so I avoided anything that could make it worse. Lately, however, my hair has changed a lot and this summer I've been trying extra hard to keep it healthy and shiny. With the added time spent in the pool with the chemicals, I realized my hair needed to be a priority. So one of my summer beauty secrets is to take care of your hair!
Make sure that you're not letting it get dried and broken by the sun, chemicals, and the constant top knots. I didn't want the pool to suck out all the good oils and health from my hair so I have been using some hair products. Two of those products are the Not Your Mother's Passion Fruit Kombucha & Awapuhi Ginger Youth Revival Leave-In Tonic and Marrakesh Hair Care Argan and Hemp Oil.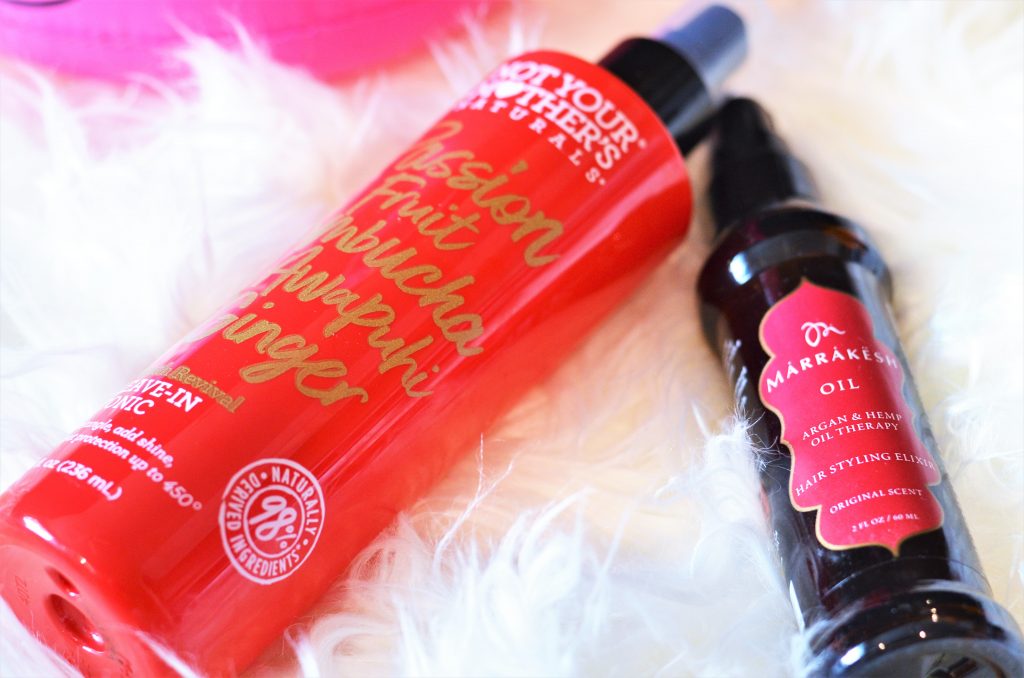 Make sure you are keeping your hair healthy and safe from the summer sun and pool chemicals!
Click To Tweet
Secret #4 Play around with eyeshadow colors
Raise your hand if you tend to stick to the same 2 eyeshadow looks. One is probably a simple nude look, one is probably the same look with a little touch of darker at the outer edge. Been there, done that. I am always nervous when it comes to using some of those really bright eyeshadow colors…but I've been branching out! I mean, when is a better time to wear hot pink and turquoise eyeshadow than summer? Bright shadow is super popular right now and there are tons of palettes that have some bright colors to venture into. And don't think they have to be high-end palettes!
The Flower Beauty Sugar Rush palette is full of gorgeous magentas and pinks! The first picture below is using that palette. For a high-end palette, I suggest the Riviera Palette from Anastasia. I'll be sharing more about that one in my monthly favorites. The second picture is using the Riviera palette. My eyeshadow summer beauty secret is to play around with some eyeshadow! Use some of those fun summer colors you never touch. Make makeup fun!