It's here! One of my favorite parts of the year is here once again. For all makeup lovers, this is a deal you should be well aware of because it is a great sale! Ulta's 21 Days of Beauty is here! Setting sprays, highlighters, lipsticks, etc. on sale for 21 days!
Have you ever participated in the Ulta 21 Days of Beauty? Basically, it is a 21-day event where each day certain products are on sale. So on the first day, it might be Smashbox Primer Water half off and Stila Liner on sale too. Each day of the 21 days has different products on sale and they're typically anywhere from 40-50 percent off the original price….and it's prestige/high-end brands! This is often some of the only times these items would be on sale. Each day there are typically 3-5 items on sale- some of them are online only– so make sure you check that out before you buy it!
This seasons 21 Days of Beauty starts on Sunday, March 17 and runs through Saturday, April 6th. Not only are there daily deals on high-end items but the Ulta Beauty Collection has items on sale each week.
For more info on the days and what the deals are each day- click here!
That link will show you what the deals are each day, if it's online or in store, and explains what Ulta Beauty Collection products are on sale each week of the 21-days. Today I wanted to share a few of the products I have my eye on for this sale. The products I find think are worth the try! Obviously, this is my opinion but I'm trying to share products I think everyone would like during this sale. But make sure you check out the whole list.
Top picks for Ulta's 21 Days of Beauty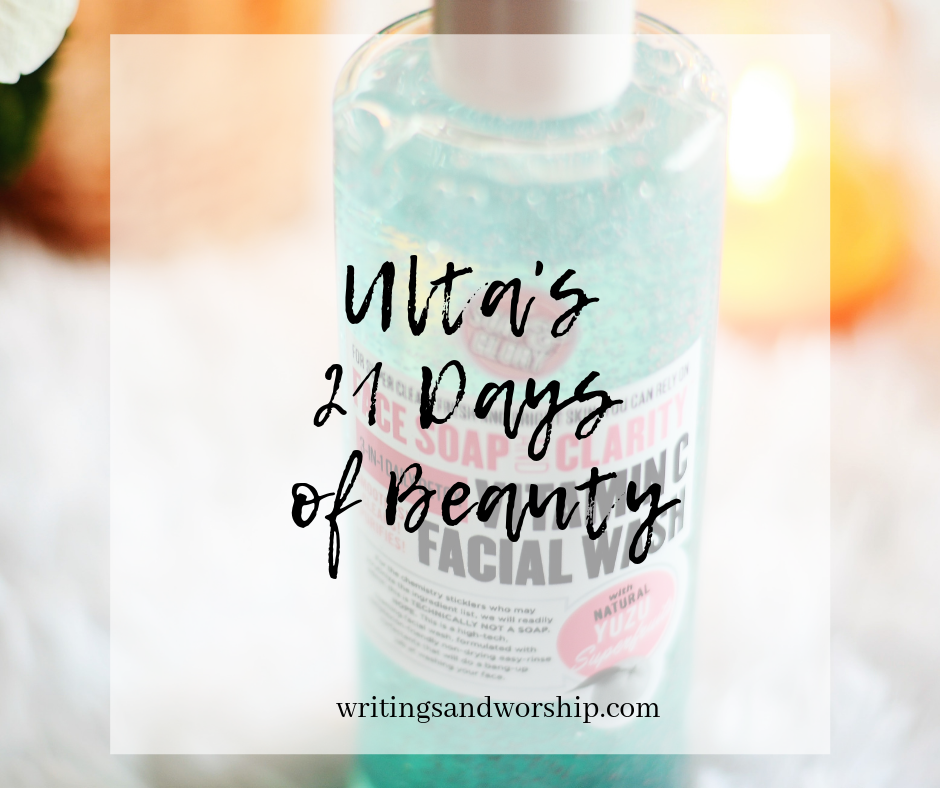 Top picks for Ulta's 21 Days of Beauty! #ultabeauty #21daysofbeauty
Click To Tweet
I very rarely buy and use high-end mascara. Maybelline and other drugstore brands make some great ones so I typically use my money for something how else. The high-end mascara's I have tried are from Ipsy or Sephora Play- like this one! This mascara is by far one of the best high-end mascaras I have tried. I've only used the travel size version…but for only $11…it would be totally worth it to pick up. I love the wand and the formula; it makes the longest lashes! If you are a fan of Tarte mascaras, set your alarm to pick this up tomorrow.
On sale $11 / Regularly $22
This one is especially for my momma! She has been wanting to try the BareMinerals Mineral Veil for a long time but didn't want to commit to the price until she knew if she would like it. So when I saw this on the calendar, I immediately told my mom to set an alarm on her phone so we remember to buy it for her. This powder has been so highly regarded that I really want to try it. It's a great loose powder, similar to the Laura Mercier powder. BareMinerals makes some great, natural makeup.
On sale $12-13.50 / Regularly $24-27
While I've used many different eyeshadow primers and concealers, I've never joined the club and tried the MAC paint pots. Many makeup people use the paint pots on their lid before using any eyeshadow to smooth out discoloration and texture. I recently saw another makeup YouTuber start using one again so when I saw that it was on sale, I immediately added it to my list. I would say that it's pretty high on the "try to get" list.
On sale $11 / Regularly $22
For those who aren't paint pot fans, this is my favorite eyeshadow primer to date. I have emptied and repurchased the original Primer Potion many times so far and haven't found anything that I prefer. My money saving trick for this primer is to typically suggest you buy the travel size because that lasts you a very long time. But during 21 Days of Beauty, the full size is cheaper than the travel size…this is such a steal! There is no better time to stock up on your Primer Potion than right now, friends. This is consistently an item that they put in the 21 Days of Beauty because it's so popular!
On sale $12 / Regularly $24
OMG, this is my top top top favorite item on this whole list. I have been dying to try some Ofra highlighters and it just so happens that one of their trios is half off! NikkiTutorials is a beauty and makeup YouTuber but I don't actually watch her but these highlighters look too incredible not to try. I love when palette's or trios are on sale because you get to try more for less. This trio would be a great way to try out various shades of the Ofra highlighters and see if you like them!
On sale $14.50 / Regularly $29
This is a product I have never tried or really heard of before however, I am very interested! I have been wanting to try a spray toner because I never seem to keep cotton rounds in one spot and I have to go searching for one when I'm ready to apply my toner. I see Ulta selling Kopari all the time so it must be a fairly good brand. And if you aren't 100 percent sure you will like a product…a big sale like this is a great time to try it! Have you tried this spray toner before? Let me know what you thought about it!
On sale $12 / Regularly $24
My sister swears by this moisturizer. She isn't one to really step out and indulge but this moisturizer is something she has purchased a few times already. She keeps going back to it because it is so great. The formula is creamy but not sticky and it smells wonderful! If you are looking for a new moisturizer, this is a great one to try!
On sale $19.50 / Regularly $39
Another classic item that is typically always part of the 21 Days of Beauty is the Stila liquid liner. I first tried this liner because of this sale! The price of some drugstore liners are getting over $10 so this is a great steal! I love this liner…it's probably the most waterproof liner I have found. I would suggest this liner to anyone but especially if you are still learning how to do a thin line or a wing. The felt tip is pretty hard so it has more control than a brush tip.
On sale $11 / Regularly $22
If you are like me and really enjoy being able to say I've tried out some of the prestige brands, this product is great for you. Origins is a well-known high-end skincare line and this travel kit is a great way to sample some of their best selling products. Trial kits like this are a poor girl's best friend, am I right?
On sale $14.75 / Regularly $29.50
Benefit brow products are so iconic that I had to mention this. How awesome is it to be able to get their famous eyebrow gel half off? That just doesn't happen very often, friends! Also, throughout the whole 21-days, there are some days that will give you free brow services if you spend $50 on Benefit products, make sure you check about that as well.
On sale $12 / Regularly $24
Aren't some of these products just amazing?? I love, love when high-end products are on sale because it rarely happens. Don't miss out on the Ulta 21 Days of Beauty! What is on your list? Let me know below!