I can't believe it, but its time to get working on all things Blogmas! Last year was my first year to do a consistent form of Blogmas and I loved it! If you didn't know, Blogmas is blogs + Christmas in one great post! Typically Vlogmas (the video version) or Blogmas is every day, but I personally think that's just a lot to ask of my readers. And finding Blogmas post ideas can be a long process!
Last year I did 14 Blogmas posts and this year I'm aiming for even more! Basically, how I personally do Blogmas is 3 posts a week like normal but all focused on the holidays and Christmas. I'm even planning a few extra surprise posts through the month of December too! Whether you are doing it every day or your own version, sometimes it can be daunting to come up with enough post ideas for Blogmas. I know there are many different versions of these lists, but here is mine! Let's share the wealth with 45 Blogmas post ideas for my fellow bloggers today.
I highly suggest participating in some kind of Blogmas if you are a blogger. It typically increases your traffic and it's honestly just fun and festive. So here are a handful or two of my favorite Blogmas topics and post ideas!
45 Blogmas Post Ideas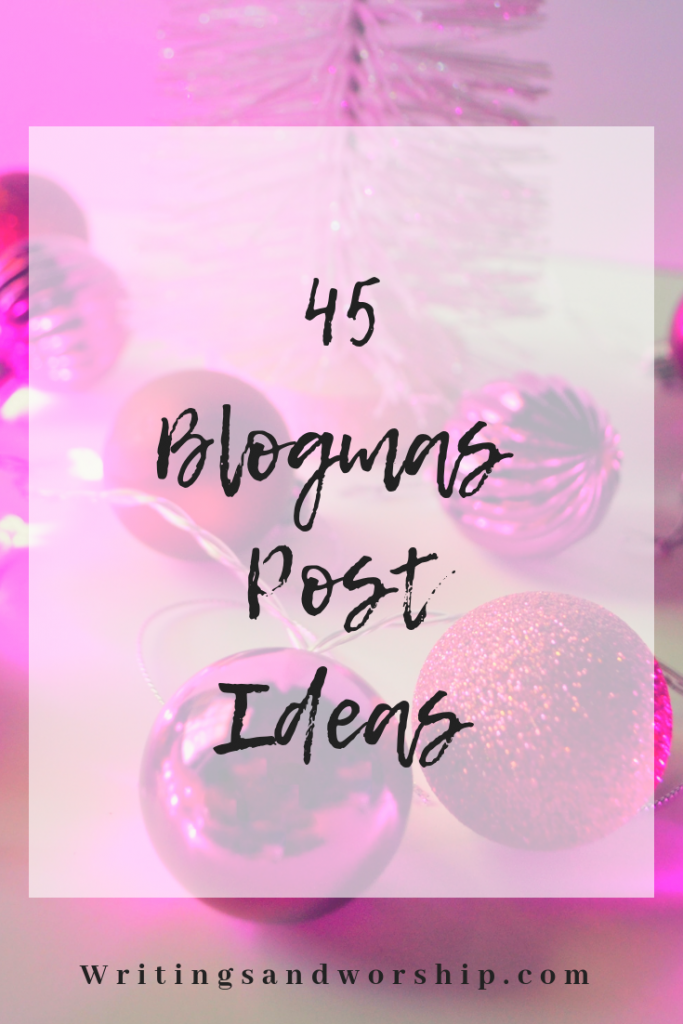 Beauty Gift Guide
Gifts for Him
Gifts for Her
Favorite Christmas movies
Best Christmas memories
Holiday lip colors
The reason we celebrate Christmas
Favorite Christmas recipe
A look at your Christmas decor
Holiday devotions
Dealing with __ during Christmas (grief, depression, etc.)
Favorite Hallmark movies
Local Holiday Events
Favorite Christmas goodies
Book lovers gift guide
Top 10 Christmas songs
Pet gift guide
Host a Christmas giveaway
Favorite Christmas candles
Your Christmas wishlist
Holiday lookbook
Festive nail colors
Yummy Christmas snack recipe
Hot cocoa or Cider recipe
Cute Christmas Wallpapers
Stocking Stuffers for your dad
Stocking Stuffers for her
Ways to give back during the holiday season
What makes your Christmas special
Childhood Christmas memories
Holiday date night ideas
Christmas Eve traditions
Favorite other blogmas bloggers
Blogmas ideas 🙂
The story of the Nativity
A letter to your childhood self at Christmas
Secret Santa gift ideas
White elephant funny gift ideas
Your favorite Christmas cartoon as a child
Comfy Christmas night in
Christmas pamper night
High-end makeup gift guide
Drugstore makeup gift guide
Presents you can make
What a Christmas carol means to you
What are some of YOUR favorite posts to read during Blogmas? Let me know in the comments! Also, who is already getting excited about Blogmas 2018?? I know I am!