Calling all the bridesmaids! I am days away from one of my best friends weddings in which I am honored to be a bridesmaid for. Being in a wedding is so exciting and such an honor that sometimes you might feel a little pressure.
Today I wanted to share a few things bridesmaids should be doing during the wedding week. So in the weeks before, but especially the week of, I suggest taking time to do these quick 5 things to make sure you are prepped and ready to go. Making sure you are stress-free and prepared is always a good idea so you can make sure you are fully prepared to help the bride in any way. Don't forget, the wedding is nothing about you but the bride! But, of course, you do want to look and do your best. Here are 5 things all bridesmaids should do during wedding week.
4 things a bridesmaid should do during wedding week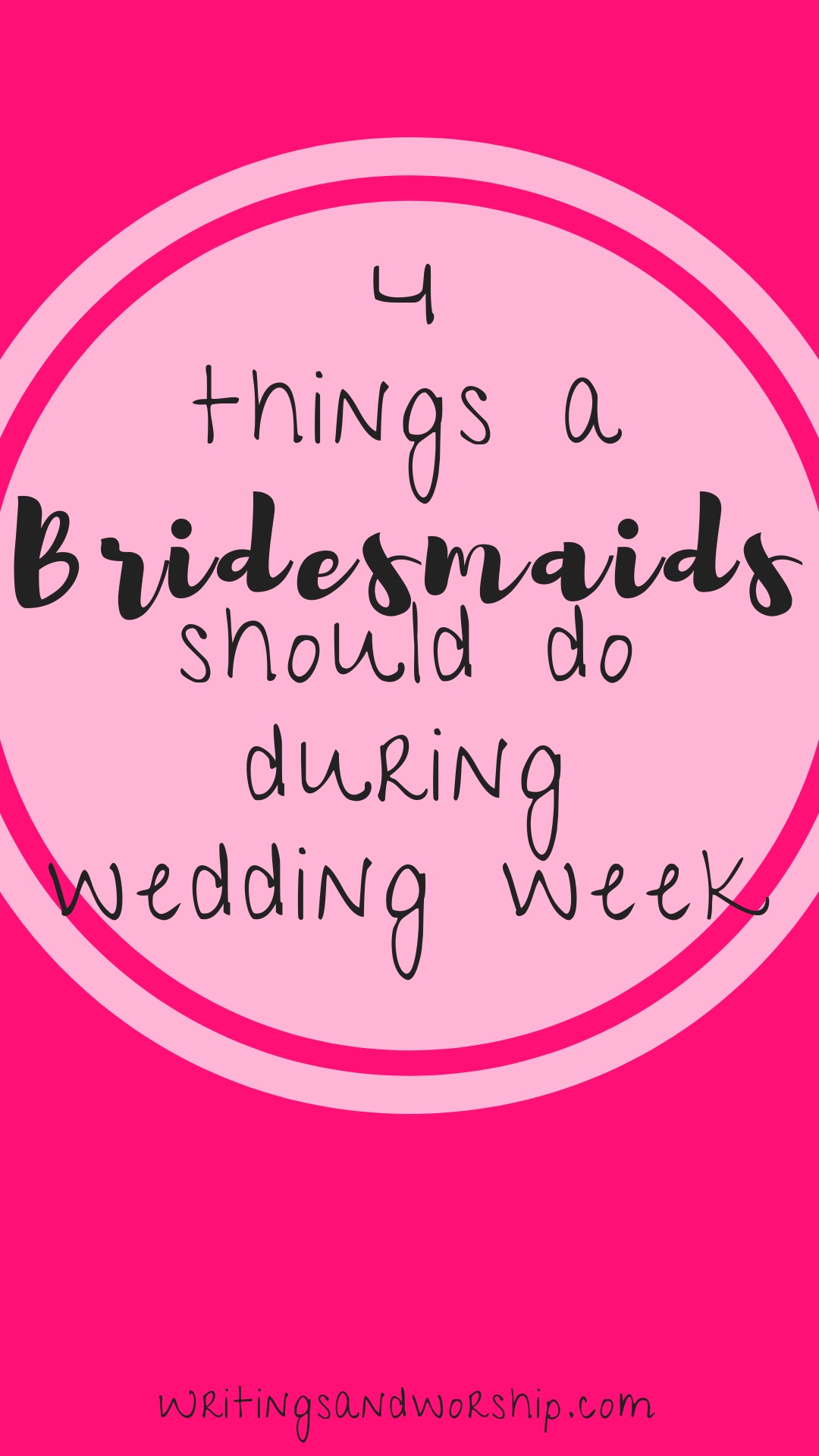 1. Break in your shoes
There is nothing worse than trying to make it through a wedding with blisters and hurting feet. Been there, done that. If you are wearing new shoes or even rarely used shoes- break them in before the big day! Wear them around the house, add inserts or cushions, and make sure they look in good condition. Also, remember to wear comfortable shoes if possible. For instance, the wedding I am about to be in has long dresses and chances are you won't see my feet. But I am still planning to wear nice gold sandals that are comfortable to walk in but still match what the bride asked for us to wear.
2. Take care of your skin
Pictures will be a big thing on the wedding day and you want your skin looking clear and flawless. In the weeks before the wedding, make sure you are taking care of your skin! But do NOT try new products. Stick with your normal skincare routine but make sure you are keeping it clean and hydrated. I would not recommend trying new products because you could always have an adverse reaction to it. My skin is extremely sensitive and I am sticking to my normal routine to keep any reaction away. This is not the time to be trying new products on your skin. But I do suggest keeping your skin a priority.
3. Test your makeup for the big day
Even if you are not overly into makeup, I still suggest testing your makeup before the big day. I have been testing my foundations and eye looks for a few weeks and I think I have the whole look down. I also testing staying power and how waterproof/sweatproof the look was because weddings are emotional and busy! The day of the wedding you need to be able to do your makeup quickly and efficiently because chances are things will be crazy and your makeup needs to last all day and look good for pictures.
Make sure you use a setting spray as well just to keep things locked in place. The reason I suggest testing it is of course to test staying power but also to make sure it goes well with the type of wedding. I'm going fairly glam but not dark. I'll be wearing a cranberry and gold eye with most likely a nude lip. Stay tuned to my Facebook because I am going to try to do a FB live of my bridesmaids makeup routine. 
4. Check on the bride
Probably the biggest tip of all, make sure you are checking in on the bride! You are one of her best friends and you need to make sure you are keeping in contact and seeing how she is doing. Make sure you let her know you are there for any wedding duties and can't wait to celebrate her and her soon to be husband. Make sure you are being an encouragement and not a burden. Chances are there are hundreds of opinions and details she is having to deal with and you don't need to be another. I suggest just checking in on her and making sure you can't help with anything.
I suggest offering your help with anything she needs but don't be too pushy. Make sure she is taking time to enjoy this time and help her in any way you can. The key is to take away stress from the bride, not add more!