Curious where I've been? Well my mom, sis, and I are currently in the process of moving to a new house. Due to a lot of factors, we have found a new house to start off with a new start.
The packing is ridiculous and the only thing keeping me sane is planning my new room setup and office area. I keep telling myself, "one more box is one step closer to getting in our new house."
The process is bittersweet and a little heartbreaking because of the recent loss of my dad. I'm packing up/ giving away his stuff and it's not easy. So I've been on Pinterest, IKEA, Wayfair, etc. keeping my mind on the good things about moving!
Today I thought I would share my new house wishlist! All the home decor items I wish I could get for my room. Some items I am planning on saving up to get, some are just my "dream room" items. We can dream, right? I'm not sure what the stores are where you live but here we love Home Goods, IKEA, At Home, and Tuesday Morning. I also enjoy shopping on Etsy for art pieces and Wayfair for items online as well. Let's get started!
New house, home decor wishlist
I have already ordered and eagerly awaiting my 2 desks from Ikea. They're both cheap and plan- exactly what I needed! I'm planning to make an office desk and a vanity area. But because of all my freelance, photography, blogging, etc. is all done on the computer…I'm on it all the time. I get tired of sitting at a desk the whole time so I often like to sit on the couch. This laptop stand would be perfect for those instances! It's simple, sleek and seems to be the perfect size for what I am needing. I consider this an upgraded TV tray, am I right?? Either way, it is high on my list.
My current bedroom is 4 walls of pink. Because of our situation and my trying to do self-employment, I'm still currently in my old bedroom parents house. Once we move, I'm going a little more sophisticated. I'm planning to have one black wall and 3 very bright white walls. I have a good amount of gold and pink accent pieces as well as art pieces so this rug would tie all of those together. I am a firm believer in all things girly, gold, and pink in my room so I am really hoping to save up and purchase this rug. I love abstract patterns like this and the color is perfect.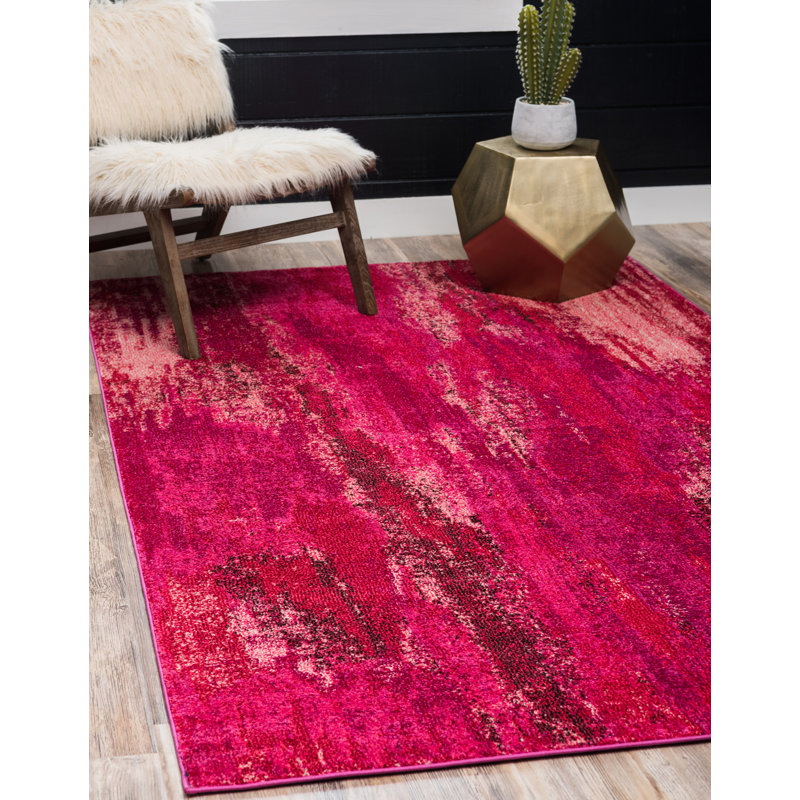 Especially on my black wall, I am planning to add some brighter details and decor. I seem to collect a lot of random candle holders and nick nacks that would go perfectly on these shelves. The various sizes are something I really love about them. I really want to purchase any kind of floating shelves but these seemed like a good quality and price. Do you have any floating shelves? Let me know the ones you prefer!
It's probably no surprise that I'm going for a Kate Spade inspired room. I love so many quotes from her but this one, in particular, is my favorite, "I adore pretty things and witty words." I actually have the ability to make these prints on my own, but I found this one so cute that I had to include it. The script writing is perfect for the look of my room. I'm planning to put my gallery wall back up in the new house and this would go perfectly with my other prints and signs.
My sweet momma and I will be sharing a bathroom so we are deciding on decor together. Luckily I got a lot of my eye for style from her, so it's going well! After losing my dad, we would look for any "silver lining" in the situation. You have too if you want to keep going. So the one thing we could think of is that we could decorate the house in all thing girly now that it was just girls living there. While we would all rather have a house decorated in whatever he wants and have him with us…we're trying to enjoy picking out new house items.
All that being said, my mom and I planned to have a really cute and feminine bathroom. The cost of this shower curtain is outrageous and we can't bring ourselves to purchase it yet…but it is perfect for what we want! The rosettes are feminine but sophisticated in my opinion. Has anyone ever seen a similar curtain that is a bit cheaper?? If so, please let me know!
Striped Comforter Set in Black & White
I haven't decided which one I want yet, but I am planning to purcahse a new comforter in black and white stripes. The simple stripes is very Kate Spade and I love the nice pattern but it is still simple. I am considering a duvet cover from amazon or a thick striped one from Walmart. I love affordable comforters because I can always use another blanket under it. I'm all about sticking with a good price.
I'm sure by the name you can guess it is an Ikea item. I'd love to have a traditional vanity mirror with the big lights on the sides…but Lord knows I don't have that kind of money right now. I also don't want anything too big because my room is on the smaller side and I don't want to take up too much wall space. When I found this round mirror with the built-in light I thought it might be a nice alternative. It's sleek and does have the lighted option but still cheaper than a traditional makeup mirror. I still find this price a little high, so I may swap out for just a plain round mirror with no light. But if I'm wishing, this would be the one!
I already have one of these and I mentioned it in my April Favorites. It has 4 smaller drawers and 3 large drawers. These are perfect for makeup. The one I have right now is just about too full so I'd love to grab another one to it my makeup in on my vanity. I've done a lot of research on makeup organizers and this seems to be a well-priced item that is great quality.
Have you ever moved? Give me your best packing tips in the comments!