Happy Blogmas post #3! For all you parents, husbands, and friends that don't know what to buy your makeup loving best friend, I've gotcha covered. Today is all about sharing a holiday beauty gift guide with you! I want to give you some ideas that your makeup obsessed friend would be impressed/overjoyed that you bought for them.
I love gift guides for many reasons, but also because it gives my family a few ideas too; of course I want all these items too! These are all beauty & makeup related items- I'll be doing another gift guide later for those of you who want some more info on what to get people in your life.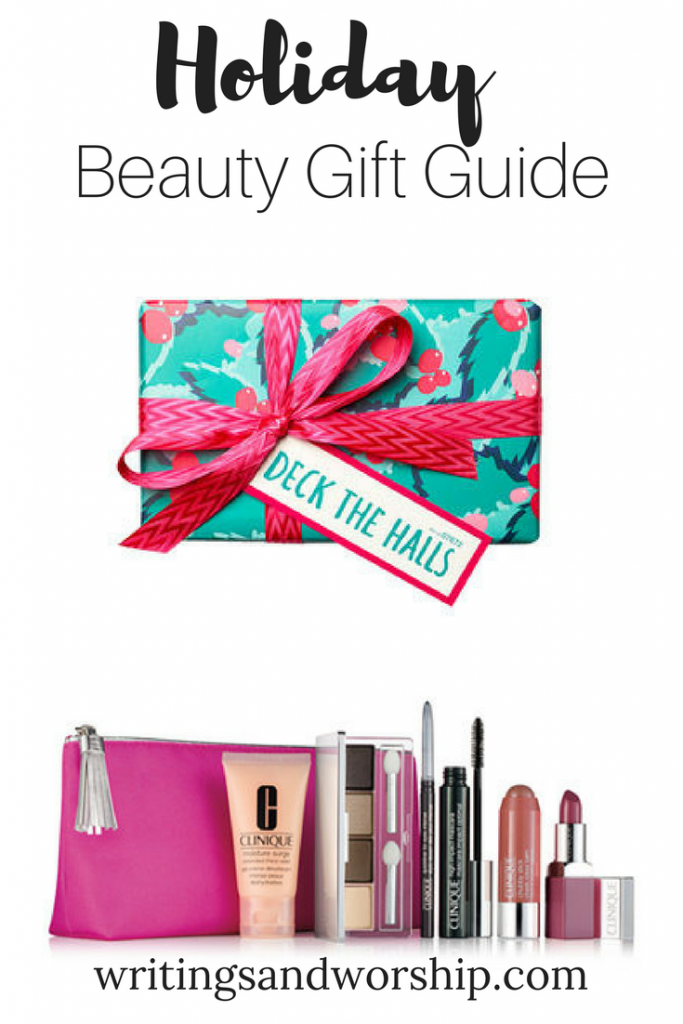 Dear Santa, this one is definitely on my list! I have seen Tarte do these wheel palette's many times and never taken the plunge. I love to mix up my blush look so this is a perfect palette for me. If you know a beauty and makeup lover, this is a great, multi-use palette for any kind of look you want. There seems to be at least one of every color of blush you can have- it's a great way to have versatility without buying many different little blush containers you then have to store. A makeup lover would enjoy this because it offers such diversity and options all in one palette. And for you non-makeup people, $44 is not a bad price for the size of this high end palette.
If you makeup loving friend, wife, daughter, etc. is a glittery or shiny kind of girl- get her this! Ya'll know I love the Stila Magnificent Metals Liquid Shadows and this is a holiday set of three smaller sized ones. The shades that are included are: Kitten Karma, Diamond Dust, & Smoky Storm. These glitter shadows are incredible. Obviously, I don't wear them daily, but for a fun look or a special event/night out they are a great way to glitz up your makeup look. Stay tuned, I will be doing a "Holiday Makeup Look" during Blogmas using one of these liquid shadows. Any makeup lover would love these fun and shiny liquid shadows- and you get to try 3 different colors for the price of one.
Clinique has always been a favorite brand of mine, I currently don't buy much from them but I am hoping to change that. I loved the look of this holiday makeup set. A set is a great gift for any beauty lover because it is a little bit of many things. You get a taste of several items- usually for a pretty good price. Clinique is a great brand and this set is beautiful colors anyone can wear. This set includes nothing too extreme and very wearable & beautiful colors. A $116 value for only $39.50 is a great deal for some great quality products! You get a little bit of everything in this; perfect for a gift!
Lush! I love Lush bath bombs and bubble bars for my baths. If you have a bath lover in your family, you need to get them a gift set. Deck the Halls is just one of many holiday gift sets that Lush offers. I love this one because it is all bath products. It comes with 2 bath bombs (Pink & Butterbear) and 1 bubble bar (Plum Snow). Lush's gift sets are perfect because just like the Clinique set because you get a little bit of a few things. I love giving these gift sets especially when they are filled with bath goodies!
Soap & Glory is becoming one of my favorite beauty brands. I haven't dabbled in their makeup but their bath & body stuff is amazing. This "Pink Big" set includes: a hand cream, a foot cream, shower gel, body scrub, loofah, and a headband. If you get this for someone in your life, it is like giving them a day at the spa! Soap & Glory knows how to pamper you and this set is perfect for it. I have tried their hand cream and it is an amazing smell! It's sweet but not too sweet of course; perfect for my liking and hopefully yours.
Smashbox is known for these little limited edition sets like this. They came out with some last summer and I was so disappointed I never grabbed one. This years set includes 2 eye shadow palettes and one highlight palette. There is one grey-smoky eye shadow palette with some deep purples in it. The second palette is a little more warm toned but not overly orange. Both I believe are very wearable for any skin tone or shadow preference. Meaning, I prefer cool toned colors but the warmer palette is still very wearable for me. The highlight palette is their Spotlight palette in pearl. I sound like a broken record but just like everything else, it is perfect for a gift because it is a little bit of a few things-great way to try out new brands and products.