Beauty brands are everywhere. High end, drugstore brands…there is something for everyone. Sephora brand, Urban Decay, Cover Girl, etc. there are plenty to choose from when looking for some new makeup. I tend to change "favorite" brands quite often based on who's new products I am looking forward to trying.
As the holidays approach, I thought it would be nice to share a few of my current favorite beauty brands. I'm partially basing this off their items for the Holiday's and just on pure favoritism. Obviously this is just a personal preference, but I just like seeing what brands are currently being loved.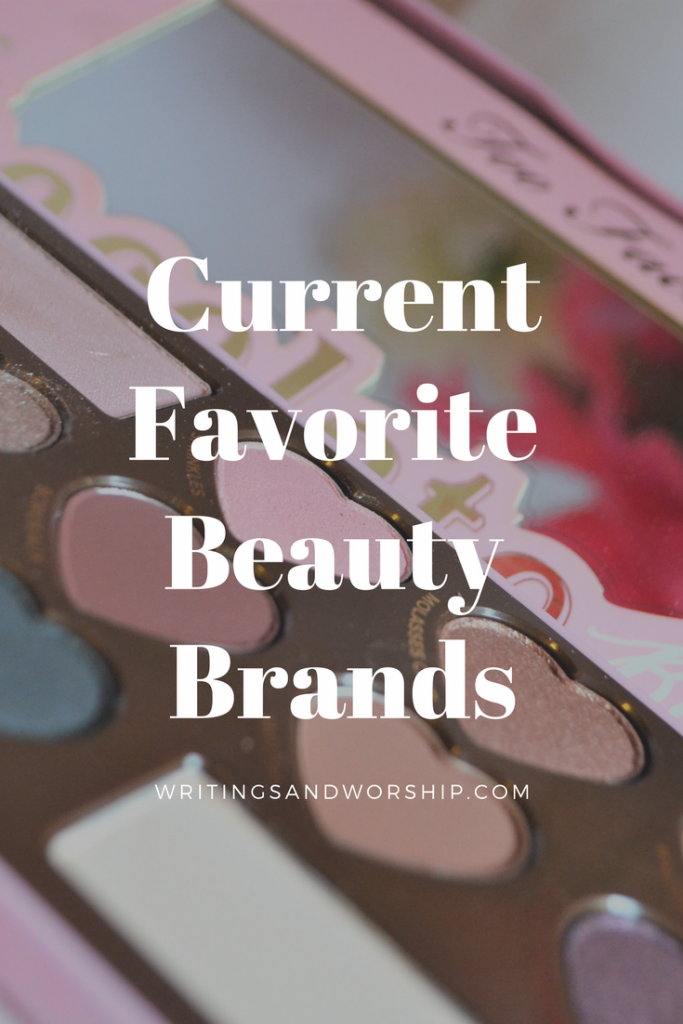 Beauty Brands
Tarte // I would say that, by far, I am the most impressed with the Tarte holiday collection. Though they aren't necessarily "Christmas" themed…they have come out with some great limited edition things for the holidays. Closer to Christmas I'll be sharing a few of their items in posts.
Tarte is also just a really hot brand right now. Their Shape Tape, Toasted Tartelette palette, & their Pro Illuminate are some of people's favorite items. Personally I have quite a few of their products on my wishlist at the moment. A few things I like from Tarte:
Blushes
Mascara
Eye-shadow Palettes
Concealer
Wet n Wild // A classic drugstore brand! I really believe that Wet n Wild is really stepping up their game. They are coming out with highlighter palettes, more brushes, and holiday sets. I have loved this brand for a long time and it's still at the top of my list. The products are great quality and even more affordable. I have noticed that my Walmart doesn't have as great of a collection as my Walgreens does; so keep that in mind.
Wet n Wild has some great items for people just starting out and seasoned pros! I love that their products are made for anyone and everyone. I have yet to try their Photo Focus foundation but it is on my list to try next. Here is a few things I love from this brand:
Contour palettes
Nail polishes
Highlighters
Ombre blushes
Stila // Ahh, Stila. My joy of the makeup world right now. Honestly, I don't know what took me some long to find this amazing brand but I will be a fan forever now. I love them because while they are high end, I consider them the lower end of high end. If you're looking for a affordable high end brand, I highly recommend Stila. They have some great things and are continuing to bring out more awesome things! Here's a few things I suggest from Stila:
Eyeliner
Glitter and Glow Shadows
Liquid lipsticks
e.l.f. // E.l.f. is another classic drugstore brand that has been stepping up their game. I really love that they are bringing in more skincare and pampering items as well as the classic makeup. While the new stuff is a little more pricey than their original makeup, it's still all very affordable. I'm a huge fan of many, many of their products and have always had really great results.
I love the fact that they have several different lines and facets- there is something for everyone. If you like minimal makeup, they have a line for you. If you want an acne fighting foundation, they have that. Always good stuff being brought out too! A few things I love to buy from them:
Foundations
Primers
Smudge pots/cream shadows
brushes
mascara
What is your favorite beauty brands??? I'd love to know so I can find some new great brands & products. Stay tuned this week, I've got a review of Soul Stamps coming up!