Happy Sunday! I hope you are enjoying a great day full of Jesus and family. What do you typically do on a Sunday?
Today I wanted to brighten your spirits! We all need a reason to smile sometimes. We can all use a little happiness in our busy and often stressful lives. Sometimes we get caught up in the chaos and the problems in our lives and forget to be happy and to remember the little things. That's why I wanted to share 17 simple and easy ways to get your smile front and center!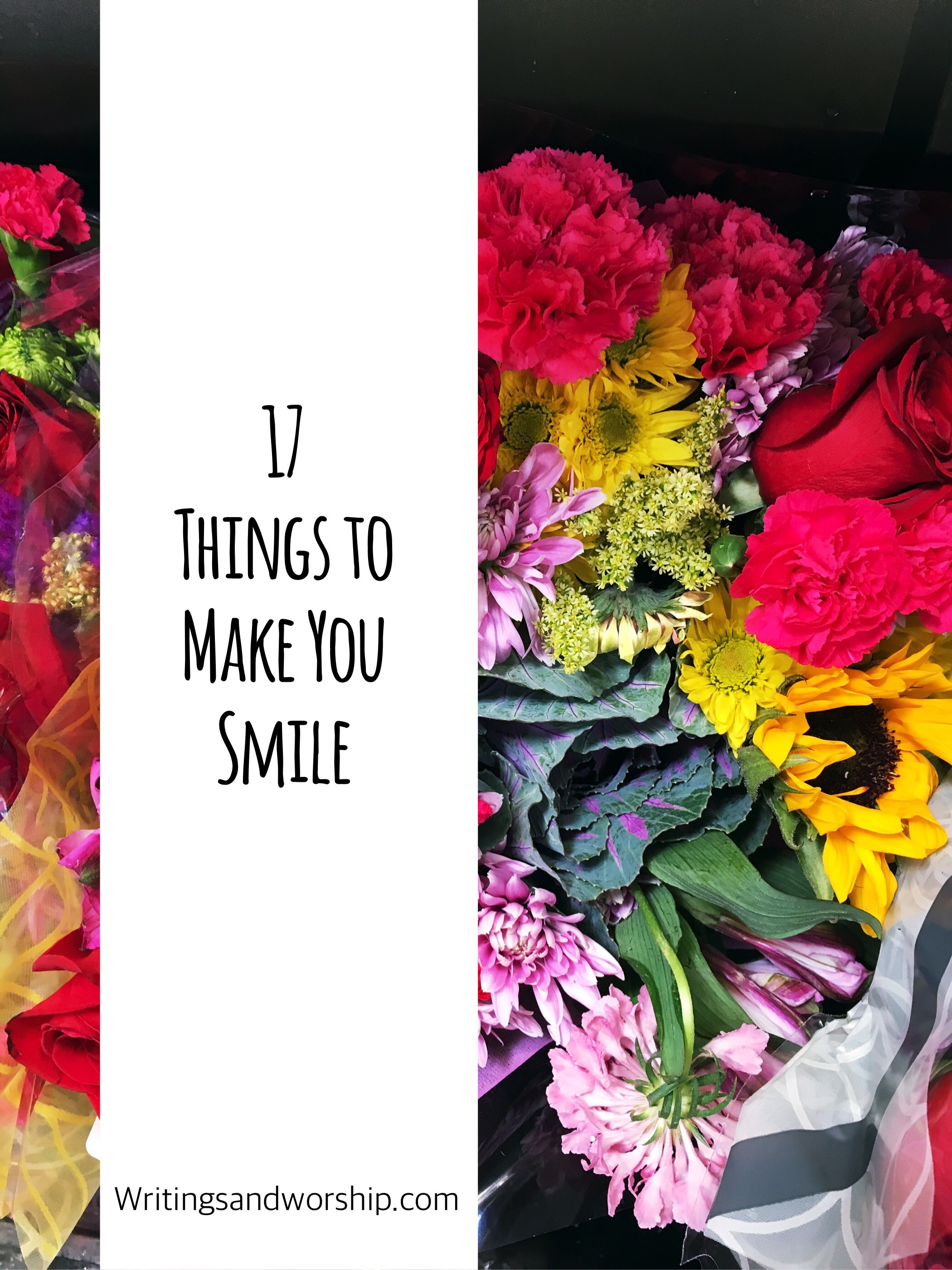 Buy yourself a new lipstick- A new lipstick always brightens my day and brings a smile to my face. How about you?
Take a moment and read a chapter of the Bible- I suggest any of the Psalms, Exodus 14, or a chapter in Matthew.
Stop and look at the flowers…literally- Sometimes even a glance at something beautiful like flowers can cause a smile on a hard day.
Write a kind note to someone else- Remember that we aren't the only ones that have hard days. So to cause a smile, try giving someone else some kindness!
Take a walk and see Gods creation- When life is stressful, go for a walk and take a look around at God's brilliant and beautiful creation. It always makes me smile.
Have a Netflix marathon of your favorite funny movie or show- There is nothing in life that a Psych marathon or a few episodes of Everybody Loves Raymond can't fix. Grab a snack, a blanket, and a crack a smile while laughing and enjoying your favorite show.
Buy yourself a new outfit- Sometimes we need to spoil ourselves, so when life is tough go buy a new outfit and smile—show the world you're in control.
Pay it forward- Buy someone's coffee or lunch! Spread smiles and happiness to others even when life is hard for us.
Create something- If you paint—paint. If you make cards—make a card. If you write—write! Create something and I bet you will smile.
Read a new book- For me, reading a new book (or a classic favorite) always tends to put a smile on my face.
Take some time to yourself- Go get a manicure, a massage, or go have lunch on your own. Take a few moments to yourself to gather your thoughts and to relax.
Have a worship service in your room- For me, nothing makes me happier than a worship session alone in my car or my room. God's presence never fails to put life in perspective.
Drink out of a fancy glass- Maybe this won't make everyone smile, but it does me! There is nothing better than sipping tea out of a fancy wine glass.
Spend time with loved ones- Show your family some love. Crack some jokes and love on each other.
Talk with an accent- Some of the biggest smiles happen because my sister and I talk in fake accents while doing housework.
Be intentional- Smile by being intentional. Love others, be caring, and have fun in life.
Order a Venti instead- treat yourself and order a big coffee on those crazy mornings and smile because at least you have coffee!
Those are just a few ideas of things to do to make you smile. There is always something to smile about even on our darkest days. Jesus is always a reason to smile and have hope. If you don't know about Jesus or salvation, I'd love to talk to you about it!
What are a few things that make YOU smile?? Let me know in the comments!