In the heart of Moore, Oklahoma, hidden in the middle of a strip mall lies one of Moore's fastest growing entertainment center: Moore Escape Rooms.
If you don't know what an escape room is, you are basically put into a room, with your friends or family, and have to solve puzzles, mysteries, and riddles to get your code to escape out of the room.
I partnered with US Family Guide to bring you a first hand review of what the experience was like! I posted a DEAL for you to go and enjoy if you are interested in this post. (Go check it out!)
My family, friends, and I were in the "Code Breaker" room, which we later found out is Moore Escape Room's hardest room they have. Now, obviously, I am not going to share the details of what we had to figure out because that would be no fun for anyone that goes.
I will say we had to work together to solve various puzzles, codes, mysteries, and more! While we worked hard and were SO close, we didn't make it out in the allotted time, bummer. But that by no means dampened how much fun it was!
We had one hour to complete the "mission" and five clues to use if we got stuck on a certain puzzle or part of the room. The rooms are by no means scary and if there is an emergency or you get claustrophobic, you can always leave at any point. And children are allowed so this could be an awesome family night idea!
Overall, it was tons of fun! The room was probably a little hard for our first time, but it was still an exciting adventure. We were so close! The staff was informative and helpful. The codes and puzzles were solvable but really encouraged you to think! Honestly, this would be great for any age but especially maybe 13+.
Children would probably love exploring the rooms and the parents would love the solving of the puzzles. I loved getting to really use my brain and work together with some of my closest friends and family.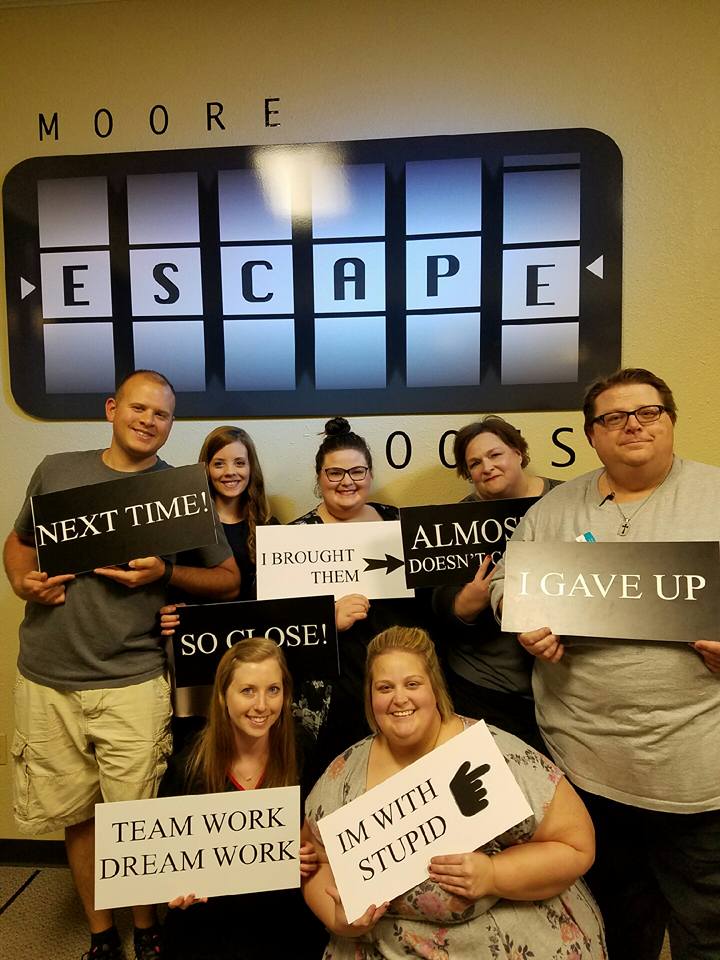 I highly recommend this if you are in the Oklahoma area. If you are looking for a fun, safe, and exciting thing to do, head to Moore Escape Rooms! It is different and fun and totally worth the cost and the time.
If you have questions, head over to the FAQ page on their website! And don't forget to check out my first post about Moore Escape Rooms for an awesome coupon!!