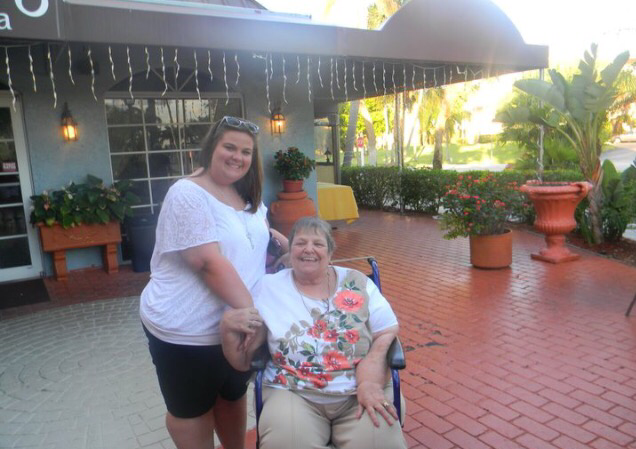 (My Nana and I)
My family is getting ready to go on vacation! It's a celebration trip for me-since I finally graduated college!
We aren't consistent vacationers. In fact the last big trip we went on was when I graduated high school. We have always been gifted a trip of our choice when we graduate.
The other day, I was thinking about our past vacations. Thinking back to my sisters 2 trips, and the fact that she had both sets of my grandparents on both trips. For both of them my family was whole and complete. My HS graduation trip, I also had both sets of grandparents. It was incredible. And a moment I wish I could relive.
This trip however, I will only have one set of grandparents. Now let me say this, I am so blessed. Many people my age never knew all their grandparents, let alone vacation with them. So I am so thankful that 4 grandparents have always been a big part of my life. But this trip, I feel like I will be missing a part of it. There will be a hole where my Nana and Gramps should be.
A few years ago, my Nana went to be with Jesus. And I never got to say goodbye. With my Nana gone, my gramps can't make the trip this far away to accompany us on vacation. They'll be with us in spirit.
But the other day, while remembering all our vacations, I had bitterness in my heart because it's not fair that my sister got so much more time with them. It's not fair that she got all her vacations with them. It's not fair that because I was younger, I missed so much time with them. But then again, life isn't fair.
This vacation, I am going to focus on the family I still have while remembering not the family that's not with me. I need to focus on what's around me. I need to remember that while it might not be fair, it's how God planned it…and there's a reason for that.
I need to remember that I am far luckier than many people who haven't gotten to have their grandparents at any vacation at all. While I would give anything for them to be with me a little longer, I am so blessed to have had them as long as I did. And even through heart attacks and countless nights in the hospital, my papa will be cruising with us.
Do you ever have a moment where you just think things aren't fair? I think we all do. For me, I let myself have moments where I'm honest about it. Yes, it's not fair. But I believe that God has a purpose for me and my family. I might not see it now, but there is a reason. God has my best intentions at heart, we as humans just can't always see what's on the other side of the mountain or valley. I know Nana will be looking down on us! And I'll be sure to drink a virgin piña colada for her!